Breitling Watch Reviews
Super Avenger
Breitling Super Avenger Black Dial by Mercury2wo
What I am posting here is more of a journey I undertook to buy the Black SA.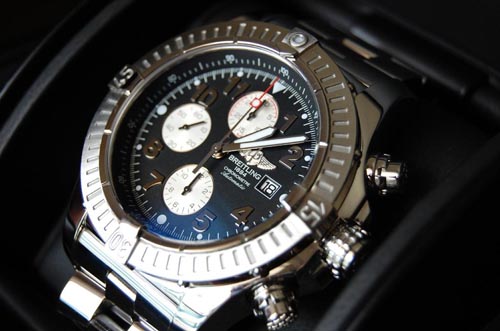 The Bug
The first time I noticed a Breitling was John Travolta sporting a Navitimer in an Ad and instantly decided I wanted one. A visit to the AD and I decided it was way beyond my budget (I mean I was wearing a Hamilton Khakhi x-Wind at that time – and any Breitling I liked was priced at least 2 to 3 times of that!

I decided to shelve it for a while and bought a Tag Heuer Aqua Racer instead.

All was Ok till a friend's wife sought my assistance in purchasing a Breitling for her husband as a surprise gift on his birthday. I helped her pickup a Black Avenger Skyland in Steel and decided I simply HAD to have a Breitling!

Still trying to scrimp, I searched souq.com for some good deals (souq.com, an auction site is Dubai's version of Ebay) and got a great deal on a 3 year old B2 on Steel and met the Seller and picked it up – but only after selling my Tag first. I had done enough research – thanks to Breitlingsource.com - to be able to spot out a fake B2. I was armed with Model Numbers, Strap and Bracelet Model Numbers, Difference in styling of the rider tabs and which models were made in which years, etc. This one was 100% the real thing – with Warranty, COSC Certificate and all that.

I was happy for 3 days exactly – till niggling doubts starting popping in my head. What if the Movement was not genuine? What if the watch had broken down and it was fixed with fake parts and re-sold?
And the thing about Luxury watches is – it is not what others think about you when they see you – it is what you feel when you wear the watch (Hence Replicas or Fakes are a complete NO-GO! What is the point anyway?)

And I also happened to spot one of our Bollywood (Indian Cinema) Actors sport a Super Avenger in one of his photo shoots – Black SA on Rubber Strap and that was it! I sold the B2 and ran to the AD to pick up my SA – but alas! They were out of Stock AND their prices had shot up by 25% as of 1st May 2008!

My wife went berserk when I told her that the Budget she had sanctioned for my watch (which was in return of a year's worth of chores and things I would listen to her about) had shot up by 25%! After a couple of weeks to cajoling, pleading, sulking - she agreed!

But there was still no SA available for the foreseeable future with any of the AD's in Dubai! I was asked to wait...

The Wait (The Pain and the Effort)
And thus started my seemingly endless wait for an SA to be shipped to my AD. I sent them emails every week and called them every other week – just so that I wouldn't miss the SA in case it arrived. The staff at the AD were always polite and helpful and always took my calls and replied to my emails - "Sir! We still haven't got a consignment – we will inform you when we get it"
And this was in Dubai – the gateway to the Middle East! Where Breitling Outdoor and Airport Ads mingle with Ads for Bank Accounts and Credit cards!
I beseeched friends traveling from Singapore (I am a Private Banker, based in Dubai), colleagues traveling to Mauritius and friends holidaying in Switzerland – But the Super Avenger was JUST NOT AVAILABLE ANYWHERE!

In desperation I started looking at these dealers on the Net – authenticwatches.com / jomashop.com . Read feedback about how many times the serial number was removed or certificates were not included. I decided THIS time won't make the same mistake – A Breitling is about how I feel – NOT about what others think. I would just not be comfortable wearing a watch with its serial numbers sanded off!

Finally One AD in Dubai had an SA – but a White Dial. While a White Dial was my LAST Choice (Black-Blue-White was my preference), the wait was killing me. I spent an agonizing week checking out pics of the white SA, wondering if it was the right choice. It did look a little more BLINGY than the muted dark dials. How it would look on a Rubber Strap? Will it go with my suits? Should I buy it? What if there are no SA's available for the next 2-3 months and this one also gets sold out?
But I finally decided to hold on and wait...

The D-Day (Markets)
15th July 2008 started just like any other – except of course the world financial markets were getting slaughtered! Freddie Mac and Fannie Mae needed the Fed's help to bail them out and the markets were falling! Talks of job cuts in the Financial Industry were all over the place.
Till I got a phone call from the AD that the SA had arrived and I could come and pick it up! Yippee!
I picked up the watch on 16th July 2008 - and I thought one also needs mementos to mark low days and difficult periods of your life – so that 5 years later when you look at your watch you can say "I remember those times and I SURVIVED!"

Finally...
The AD in Dubai is an exclusive Jewellery and Breitling Retailer and has outlets in the most expensive malls in the city. The sales person was warm and friendly and as we sat – he took out the package.

Opening The Package (Please click on the Thumbnails for a larger picture)

The AD threw in a Breitling Baseball Cap AND a semi-hard Traveling watch case. The Box Package and the above two in a stylish Breitling carrybag.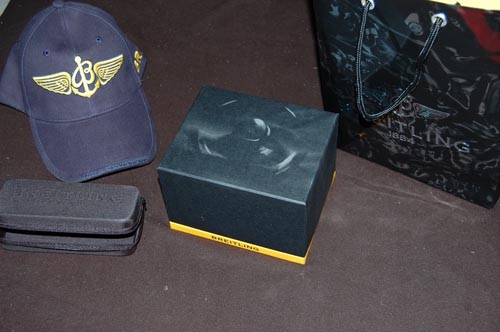 The Package has the image of a Plane Propeller and is made of solid cardboad. Very stylish!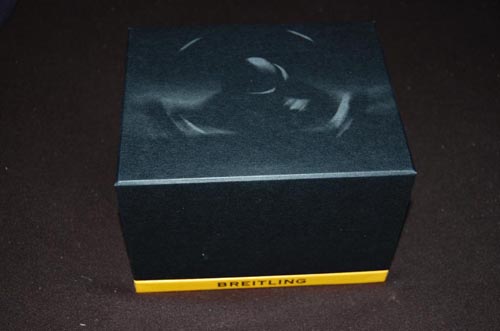 Opening the Box – reveals a shining Bakelite Box with the embossed Wings Logo. This version of the box seems to have been introduced only in the last couple of years. I have also heard that these boxes in themselves are collectors items!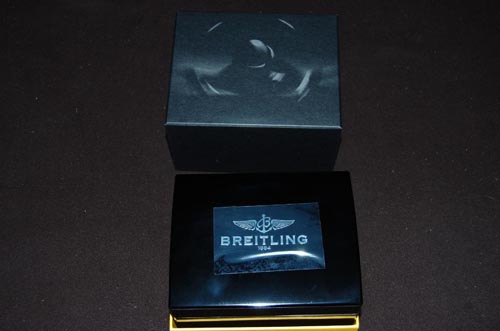 The base of the box reveals a cardboard – with description of the Bakelite Box and below which are the warranty card, manual and COSC Certificate.



A close up of the description, and it talks about a quick history of Bakelite and that the box was made in France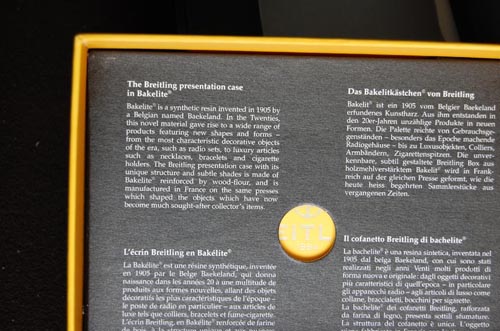 The Made in France and Genuine Bakelite imprinted on the bottom of the Box. This is also used by collectors to identify fake bakelite boxes from the real ones.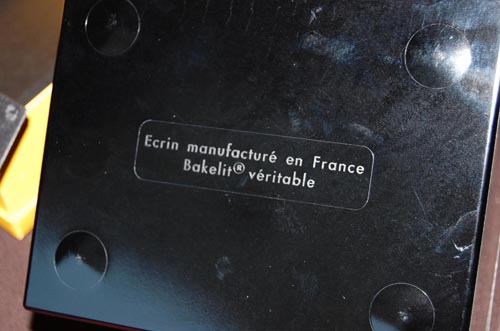 The Bakelite Box hinges upwards revealing a leather case with embossed Breitling Logo.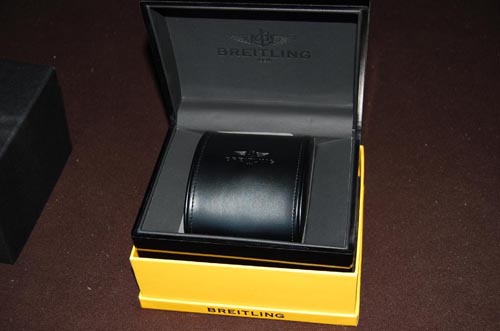 The watch has a plastic Bezel protector and the steel bracelet is encased in plastic (you can't see those here – since I had removed them already) The SA looks majestic inside the Leather Case. A Beast waiting to be let out of the cage!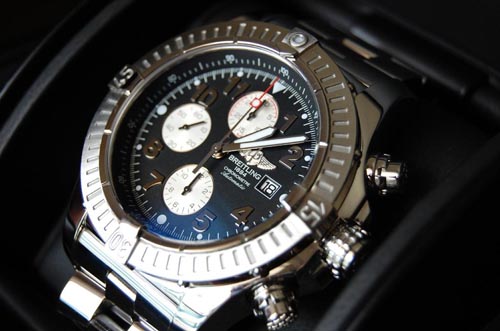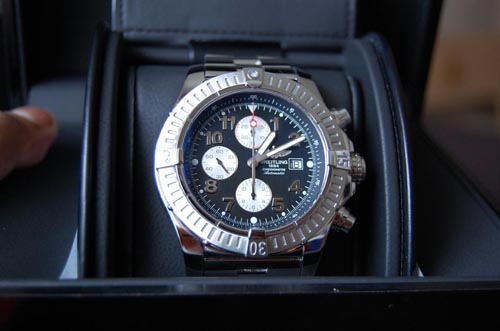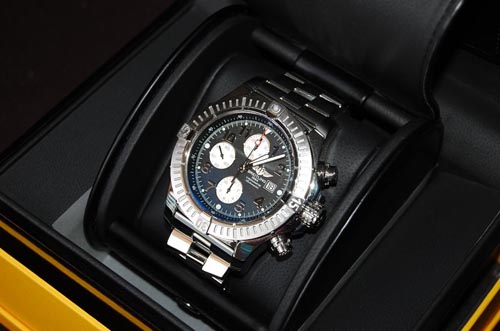 On my Wrist it looks Awesome! The sheer beauty of the watch cannot be explained or depicted in these photos. My initial impression was that the polished shiny finish might look too flashy - but when you actually wear the watch you realise that the finish actually enhances the look of the watch.

The Blue Tinge of the Anti Glare coating on the glass adds a pleasant Blue-Black feel to the dial at certain angles. The AR coating is magic! It's as if the Glass isn't there at all!

What I LOVE about this watch is the Big Breitling Wings Logo – which is solid steel applied on to the dial. Unlike Etched logos of the Avenger Skyland or the Navitimers. And note that the newer versions of the SA's probably for the last 3 years have a larger 'wingspan' to the logo – stretching from the date window to the bottom of the subdial. The older ones have a much smaller 'wingspan'

While the watch is quite BIG – 48.4 mm Dial AND chunky pushers and crowns –but the watch is not as heavy as I expected it to be. I like the solid, heavy feel of a watch. The bracelets seemed lighter than I would have expected a solid steel bracelet to be. The links are probably hollow and not solid steel. But they look great and complement the watch. All those of you with a Pro 1 Bracelet – I strongly recommend you trying out the Pro 2 Bracelet. It will change the look of your watch!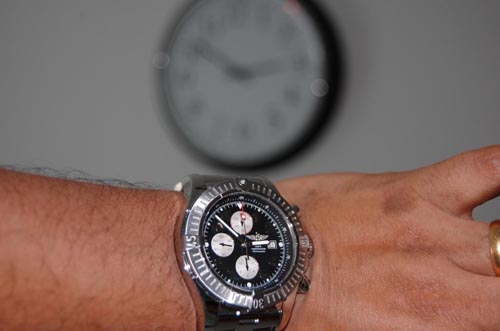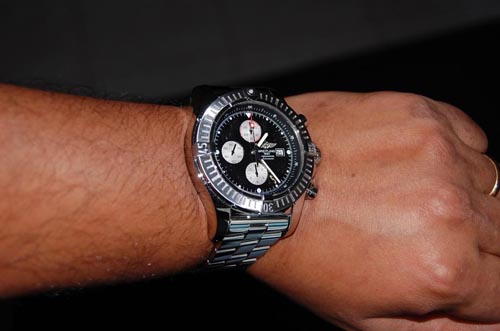 Contrary to my expectations – this watch actually goes quite well with formal suits as well. (I am a Private Banker, remember? I cannot look like Dr. Dre when I meet clients and discuss investment portfolios and risk hedging strategies with them.) But this watch just seems a natural part of my attire even with a suit! Here is a pic with casual weekend dressing and the watch looks great!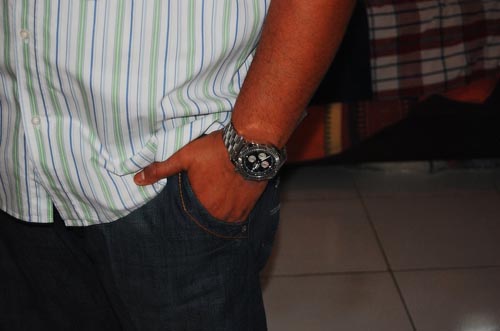 A Final Pic with Everything the AD gave me.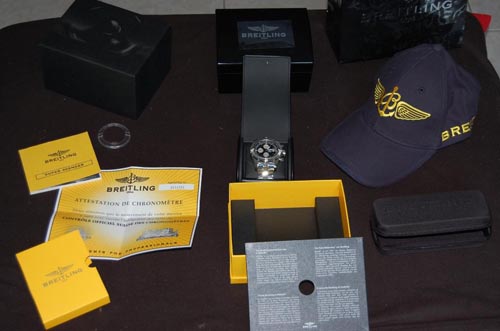 Conclusion -
I was looking to buy a Breitling for the last 8 months – frequenting watch sites, checking out posts, requesting friends, buying a used watch, selling it, innumerable visits and phone calls to the AD's, etc. and enjoyed the process thoroughly! Now that I have bought my watch and have it on my hand - it does feel like the end of a journey – and I do feel a bit saddened. And the first time is always special!
But Hey! There is always the Next Breitling to look forward to!
My Tips
1.Wait for your watch – don't hurry up and compromise on a watch you don't completely like.
2.If it is your first Breitling – avoid Ebay, second hand watches (unless from a friend or a trusted source) and other Internet watch dealers.
3.Of course, AVOID fakes. It won't mean anything to you after a few days. If anything it will tell your friends a lot about you – and probably all the wrong things.
4.Do your research – Breitlingsource.com is a great site and get opinions and help from the friends you will make here.


I know it is a slightly long post - But Do Give me Your Feedback and let me know if you enjoyed this post or found it useful!
Review by Mercury2wo