Welcome to the Breitling Source
Complete Breitling Resource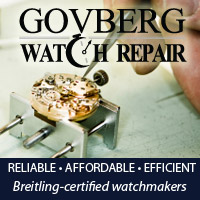 I started this Breitling information site because I noticed a lack of information on Breitling watches on the internet. There was always something I could not find, or had to spend a ridiculous amount of time to find it. Information on calibers/movements, bracelets, casebacks, and model productions years among other things were always so difficult to find!
Site News
August 27th, 2013 - Added a new section of Breitling Watch Manuals to start compiling a list of previous and current manuals for all Breitling watches. I am going to try and get them all! If you have one that I don't, please send it to me! I will also be tying them into the database and linking them with the appropriate watch in the database list so you can download the manual from the watch info page too!

This site does focus mainly on more recent models, concentrating primarily on Breitlings from the 80's and newer, but we have a great growing Breitling Vintage Forum. There are lots of extremely informative sites and forums out there which have even more information on Breitling watches, but I am trying to create a complete model list with gallery and specifications among other things. This site is also intended as a way for potential internet users to spot fakes and replicas on the internet and in real life.
Feel free to email me with any information that may be incorrect, or additional information of pictures that you may wish to provide so that we can have the most complete Breitling resource on the internet!