Breitling Watch Reviews
Navitimer
Breitling Navitimer Review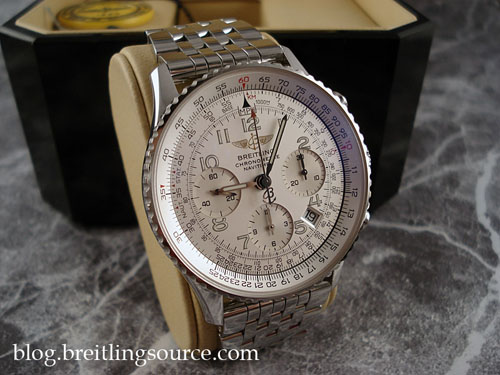 This is a current model Navitimer with a very rare silver dial with silver subdail and arabics combination. What appealed to me first was the cool somewhat understated dial. It did not have the same black-and-white immediate presence that calls out "I am a Navitimer, look at me!" that many of them do.
Don't get me wrong, however, as I love the way a classic black and white Navitimer looks. I have one of those too! This new layout of the Valjoux movement with the totalizers at 3, 6 and 9 is nice, and works well for this watch, creating a more symmetrical appearance.
This new Breitling Caliber 23 no longer has a quickset date like the previous Caliber 13-based Navitimers. I'm not sure why they were unable to carry that feature over.
Accuracy is impeccable, keeping with 3 seconds a day. When the chonograph is running it slows down a bit and keeps time maybe at about 15 seconds slow a day. I've kept the watch running with the chrono for several days and this seems to be consistent.
Lume is great on the hands and arabics, with it lasting quite a long time, and the watch is very comfortable on the wrist, size being one small step down from 'very big'. The bracelet is awesome as are all Breitling bracelets in my opinion.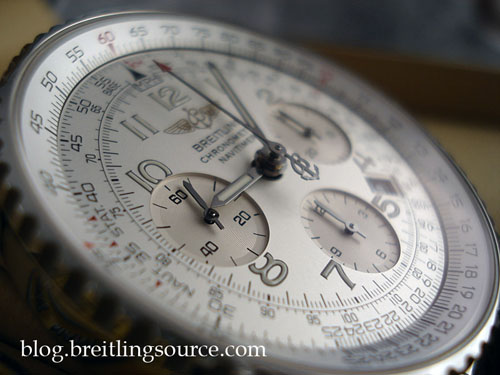 Overall Impression
Movement: 8/10
Case/Crystal/Crown: 10/10
Dial/Hands: 9/10
Strap / Buckle / Bracelet: 10/10
Accuracy: 9/10
Comfort: 9/10
Packaging / Manual: 8/10
Overall Impression: 9/10