Breitling Watch Reviews
Headwind
Breitling Headwind Review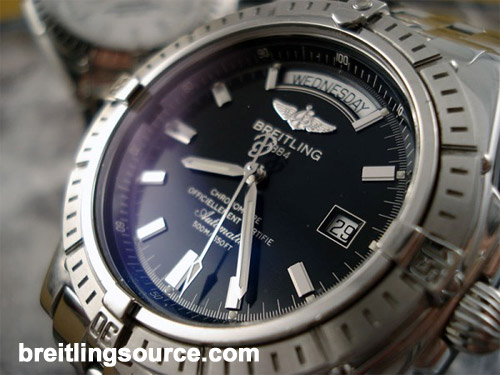 The Headwind was discontinued in 2005 when the new Chronomat Evolution was released and the revamping of the entire Windrider line came about. The Headwind still remainds one of my favourite watches that Breitling has ever made.
Why? I'm not sure... perhaps the design 'speaks' to me unlike others do. I really love the classiness of the black dial done in the 'par epargne' method. It is extremely luxurious and would only be noticed by a true watch connesieur. At closer look, through a loupe, one will notice that the dial is infact a solid peice of silver, with the markers and writing exposed silver as opposed to lacquer paint. Wow! It truly brings out the crispness of the text on the dial.
The watch is a chronometer, like all Breitlings since 2000 are. It keeps good time, although not as good as some of the others I have. It is perhaps 8 seconds fast a day sometimes, time to have it serviced. The sapphire crystal is curved slightly and the face is very large, the size quite imposing.
One thing I like about the pre-2005 Windrider watches is the crown. The crown seems more refined and classy than the newer crowns that have the flatter feel to them. Perhaps less industrial, but they seemed to have a more expensive feel to them that I miss with the new Chronomat.
The Headwind has a Breitling Caliber 45 ticking away inside it, which is based on the ETA 2834-2 movement. Essentially a 2824-3 with a day module added. Some may argue that it is not the most refined movement, and most will agree. However it's durability will never be questioned. This workhorse from ETA stands up to the test of time.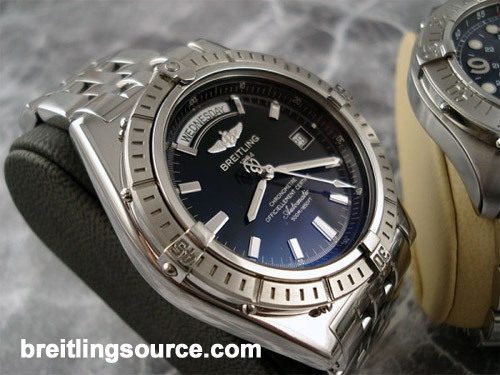 Whatever you tastes, the Breitling Headwind is a very robust and imposing watch to wear. The dial is very fine, and the the movement keeps excellent time (when serviced). To me the watch has a similar look as the Rolex President, but with all the style of a Breitling.
Overall Impression
Movement: 7/10
Case/Crystal/Crown: 10/10
Dial/Hands: 9/10
Strap / Buckle / Bracelet: 10/10
Accuracy: 8/10
Comfort: 8/10
Packaging / Manual: 8/10
Overall Impression: 9/10