Breitling Watch Reviews
Chronomat Evolution with Diamond Bezel
Breitling Chronomat Evolution Review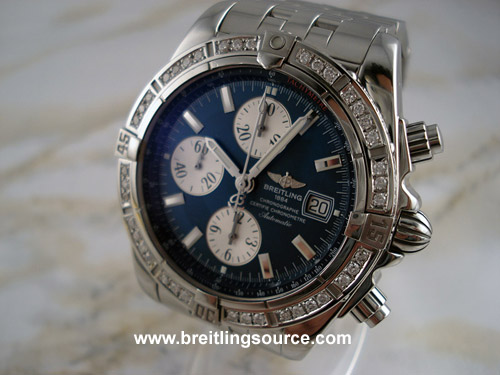 In 2005, Breitling decided to redesign their flagship wrist instrument, the Chronomat. The result of this redesign is the new Chronomat Evolution - and change is good!
I received this Breitling and was immediately impressed by the improvements that Breitling had made to it, not to mention the new larger size. This is my most worn watch now, with the diamond bezel adding a touch of class but not too blingy as it is quite subtle for a watch with 2 full carats of diamonds.
The watch is a COSC certified chronometer and keep time within those specifications at +3 seconds/day. The dial has a beautiful circular pattern to it with some very fine circular guilloche patterning on the subdials. This model is the one with the blue dial and silver subdials.
The pilot bracelet has been revamped for this model like many of the newer Breitlings. Instead of using 22-18mm width bracelets, the new pilot bracelet is a 22-20mm one, so the clasp is wider than previous 22mm pilot bracelets like those on the Headwind and Crosswind models. This gives a more chunkier look overall that I like, though noticeably not quite as comfortable.
The new domed crown is a bit less 'fine' than the previous one, with thicker ribs, and a chunkier look. The screw threads on the crown are now inside rather than exposed, giving the watch improved water resistance. The Chronograph pushers are also screw-locked to aid in the water resistance, which has been improved to 500m.
Sapphire crystal on the new Evolution has also been improved by adding more curve to it without sacrificing readability at sharp angles. Another small detail that has been changed is the new bezel screws are flatter on top than the older ones.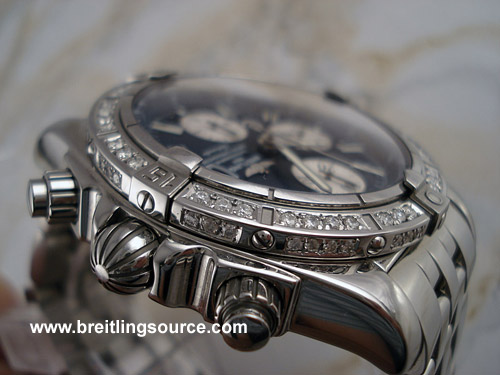 The Chronomat Evolution is a worthy successor to the Chronomat, which has been preserved in the form of the Chrono Cockpit. This is easily the nicest current Breitling outside of the Breitling for Bentley line.
Overall Impression
Movement: 8/10
Case/Crystal/Crown: 10/10
Dial/Hands: 10/10
Strap / Buckle / Bracelet: 10/10
Accuracy: 9/10
Comfort: 8/10
Packaging / Manual: 9/10
Overall Impression: 10/10