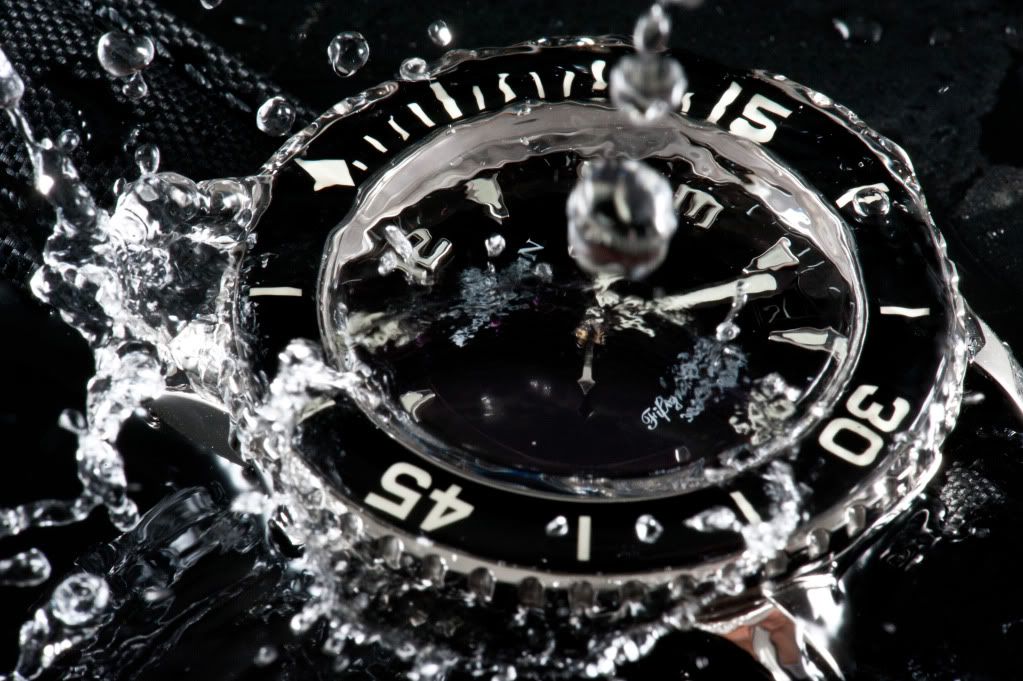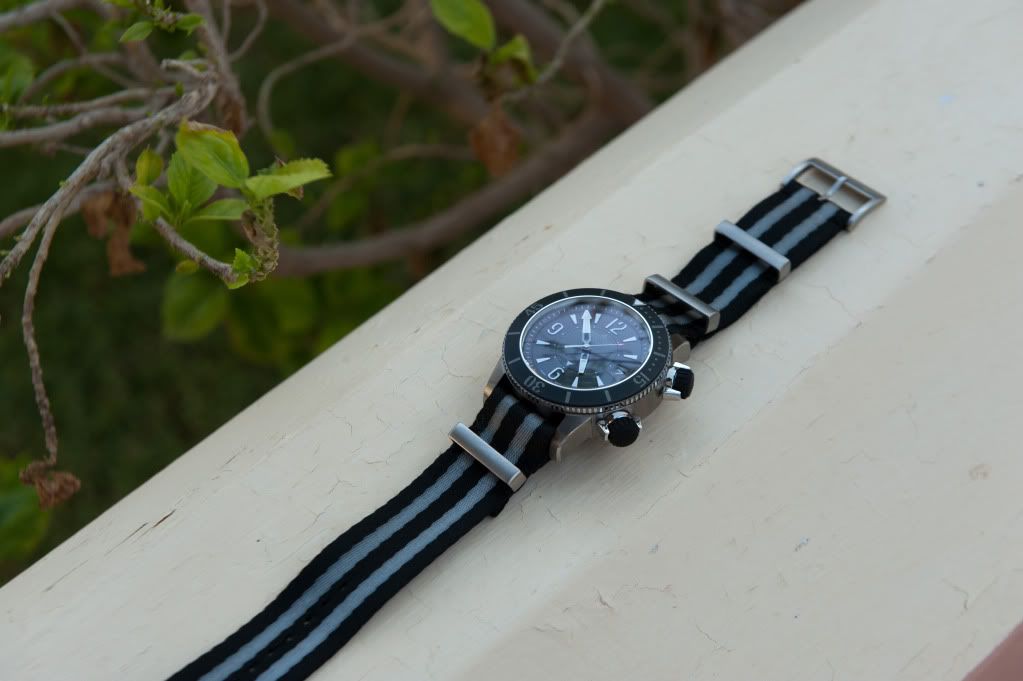 The Review: Blancpain Fifty Fathoms Vs. Jaeger Navy Seals Alarm
The Watches; an Introduction:
The Jaeger Le Coultre Navy Seals Alarm is a modern collaborative effort between Jaeger Le Coultre and the US Navy Seals, while the Fifty Fathoms was born out of the French Special Forces contracting Blancpain to create a dive watch for their elite units. Both of these watches are large, modern divers exhibiting state of the art technology coupled with fine watch-making and finishing. Their large, clean dials coupled with their innovative bezels (one being in PVD Titanium and the other sapphire covered) as well as prestigious branding are sure to attract the same potential buyers, especially since they share the same street price (~ $8000)
Brand History and Legitimacy:
Those who know me know that I have a deep love of all things military watch, particularly those used in military deployments back when mechanical watches where the only option, rather than the ones created to military specifications today. I particularly love modern reincarnations of those watches that are made with state of the art technology and to higher end finishing grades, while still being faithful to the originals. Some of the brands I enjoy are Panerai, IWC, Breitling, Omega, Rolex, and most recently Blancpain with its Fifty Fathoms and Jaeger with their modern and contemporary designs.
Blancpain as a brand and the Fifty Fathoms specifically, have a rich history behind them. In 1952, The French Ministry of Defense had initiated the creation of an elite combat unit that was later to be named "Les Nageurs de Combat", ( translation: "The Combat Divers" ) and had assigned the task of forming this special task force to two legendary Frenchmen, Captain Robert Maloubier and his lieutenant Claude Riffaud.
The purpose of this elite unit was to undergo low-profile, high-risk, and sensitive missions with no support of other military units. The process of choosing the appropriate individuals for this team was a long and careful affair, and the caliber of their equipment was also of the very best available. Hence this particular model. Blancpain in general aspire to a very high level of watchmaking across their range and are highly respected by informed watch collectors, if nothing else, they have never produced a quartz model and have vowed never to do so!
Similarly, Jaeger Le Coultre have had tremendous effect on the watch world, their achievements in terms of both horological ingenuity and finishing standards are legendary and, as a brand, offer what I believe to be the best value for money in any price point they compete in. From the classic and iconic reverse to the contemporary Extreme Lab II, Jaeger Le Coultre shows ingenuity, integrity, and a consumer-centered drive that is both admirable and incomparable.
This is one area where both brands stand on solid ground, and no clear winner can be objectively identified.
Winner: Tie!
Movement Features:
The movement that comes in the latest edition of the Fifty Fathoms is the in house self-winding beautifully decorated Calibre 1315. Features include an especially dense bimetallic rotor, which facilitates winding efficiency. Also, if you notice from the movement picture below, the absence of a swan-neck regulator is noticeable only by the eagle-eyed, as this caliber utilizes a free-sprung balance regulated by screws around the balance wheel instead (see it now?).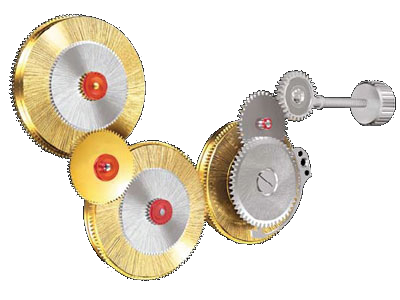 See those three gold barrels in the middle there? Those are the three series coupled barrels which result in a very respectable 5 day power reserve. All in all allot of innovation and workmanship has went into this movement, and there is nothing to complain about (other than the fact that you can't see it)
The Jaeger, however, is no light weight either! As can be expected from the brand the movement showcases all signs of expert watch making and modern technology. The Calibre 956 incorporates the latest advances made by the firm in the areas of automatic winding, such as a large free-sprung balance and ceramic ball bearings requiring no maintenance or lubrication. The gear wheels have a new tooth profile that ensures smoother transmission of power. The alarm Gong is suspended from the case back to ensure optimal sound quality.
Feature wise, both movements showcase some superior horological know how and dedication to performance. It is hard to choose one over the other in terms of features as both well designed and impeccably implemented technologies that further the watches functions.
Winner: Tie!
Case Finishing:
The Jaeger has the typically excellent hand finishing found on every model they produce, and is even a slight upgrade over their basic models, but understandably not quite to the impeccable levels of their top tier models. The strokes on the finish grain showcase some very involved hand work with no mistakes and excellent attention to detail.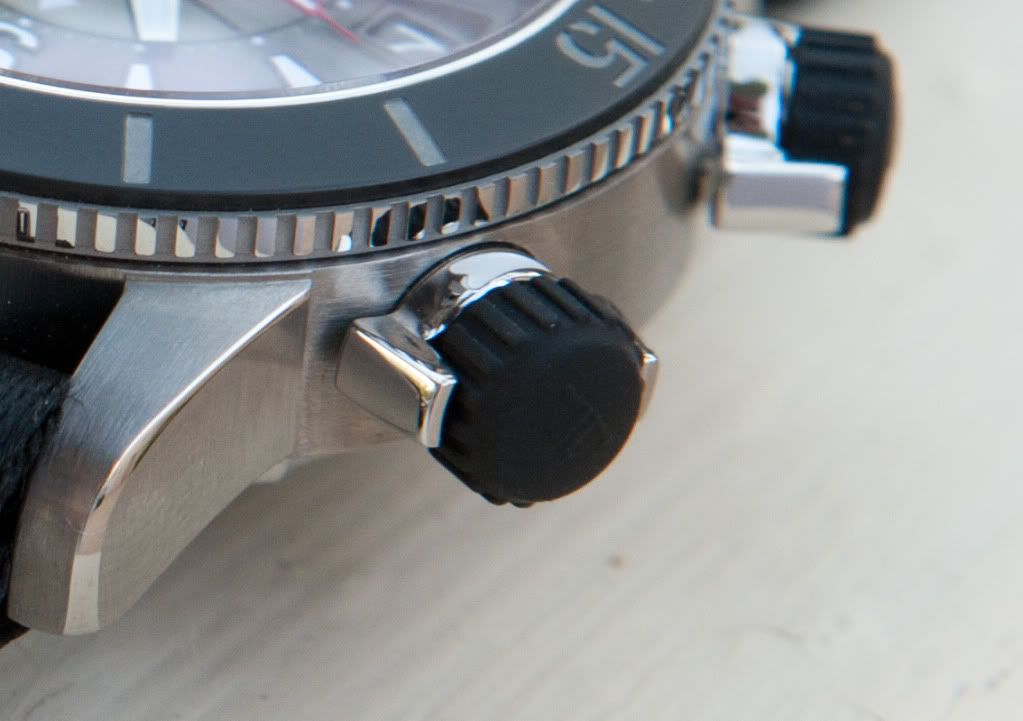 The Blancpain has a polished finish in contrast, and is the finest polished watch I have ever owned. It is amazing how the polishing on this watch turned this piece of military instrumentation into a mesmerizing luxury item that has caught the eye of many onlookers in my experience.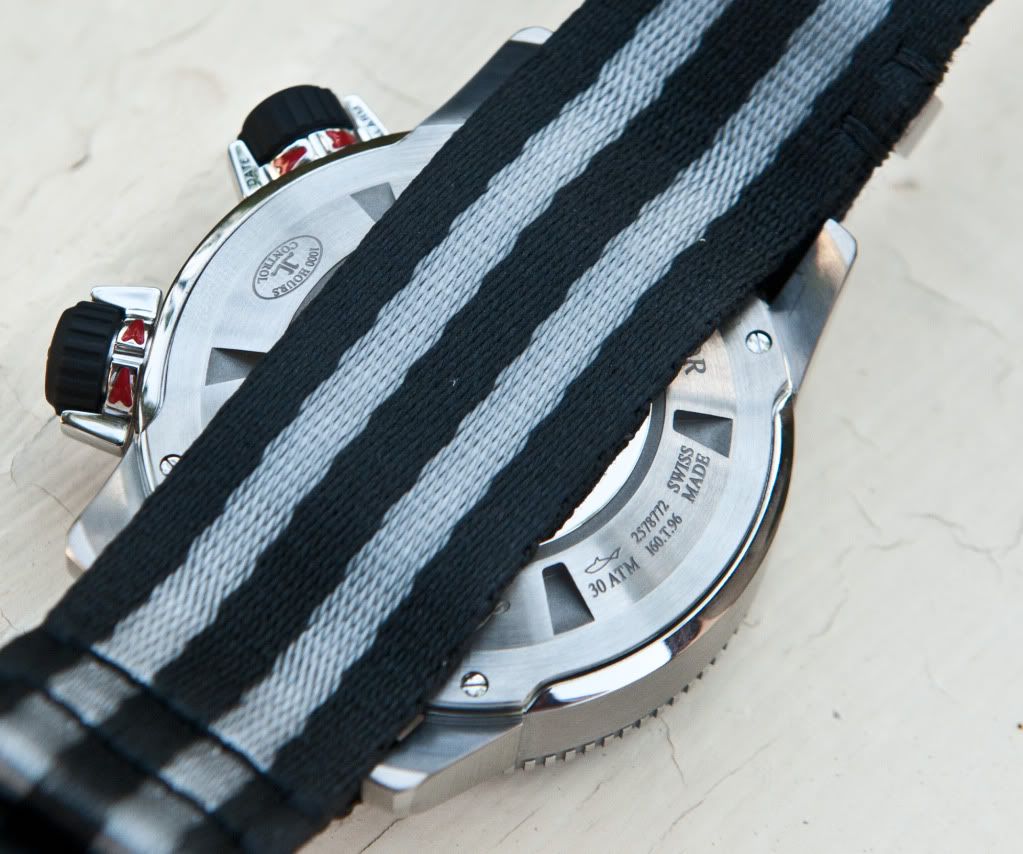 Although the polish work on the Blancpain is superb, the quality of the brush work on the Jaeger at this price point is still an eye catcher and the Navy Seals Alarm remains as the overachiever.
Winner: Jaeger.
Case Construction:
Both seem very well constructed on close inspection and I can find no signs of weak points or potential issues in that regard. The Blancpain feels more solid, but I suspect that is due to the weight and feel of stainless as opposed to the Titanium of the Jaeger.
Winner: Tie
Watch Features:
On one hand the Jaeger has the excellent and well implemented Jaeger Le Coultre Suspended Gong Alarm, which optimally is couple with Titanium here, produces a fantastic sounding and crisp sound as well as the unique PVD Titanium bezel. On the other hand, the Blancpain has an impressive five day power reserve and the gorgeous sapphire coated bezel as well as the triple lock fastening system.
I actually had to step back and think things over for a second here before I made the difficult decision of who would get this point. If we agree to overlook both innovative bezels as equals, I initially thought the Jaeger would sweep with its excellent alarm complication, but the extended power reserve on the Fifty Fathoms, quick date change, as well as triple lock safety mechanism almost due balance things out, and certainly do not count as an outright win for Jaeger.
I think the fact that I am having such a hard time deciding seals the deal with another equal show off.
Winner: Tie!
Technical Movement Finishing:
The Blancpain surprises with its excellent and almost obsessive technical watch finishing. Above average polishing applied to the components and I am happy to report that Blancpain does not subscribe to the awful practice of over lubricating their movements out of the factory like many of the less prestigious brands do. Although that would eliminate immediate issues such as contact (remember, if parts move, then there is friction, and thus ultimately wear and tear) but would cause severe issues on the long run as the oils begin to dry and parts not only scrape, but deposit parts elsewhere into the movement.
Thankfully Blancpain goes to the effort of polishing the most miniscule and difficult to work parts by hand, although a costly endeavor it is what fine watch making is all about.
Jaeger remains to be the gold standard in functional excellence at every price point they compete in. The hand finishing is excellent as can be expected and remains to be a serious competitor to Blancpain in this category.
All in all, I continue to be impressed by Jaeger in this category, and pleasantly surprised by the Blancpain.
Winner: Tie.
Decorative Movement Finishing:
Let me start off by saying, that although I appreciate the well made and beautifully engraved case backs on both these watches, I think it is a travesty that they do not have sapphire case backs! Movements as fine as these should not be concealed!!!
Not to say that any of these calibers are over decorated. On the contrary, the work done on these two calibers is similar in theory to what Panerai famously refers to as "Tool Watch Finishing" and refers to the process of decorating watch parts so as to add value and visual appeal without being ostentation or flamboyant.
The Blancpain has slightly more varied finishes applied, as some of wheels exhibit circular movement finishes, while the Jaeger has what I perceive as a slightly better executed finish. All in all they quality and attention to detail from a visual standpoint is similar on both.
Winner: Tie!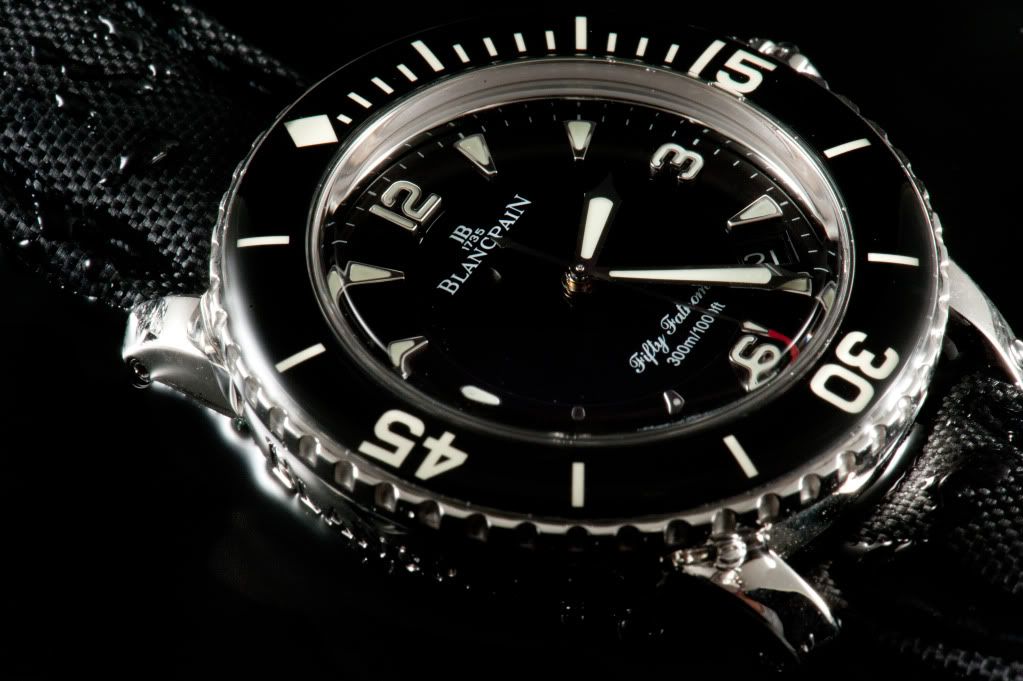 Overall Reliability:
Both the Jaeger and the Blancpain have performed within their advertised specs and have not shown any inconsistent timekeeping. Additionally, both brands have invested some innovative technologies and finished the movements so as to guarantee long term reliability. It is practically impossible to differentiate between these two brands in this regard.
Winner: Tie.
Bracelet/Strap:
This is going to be a difficult one to judge! Although I do find the canvas "sailcloth" strap provided by Blancpain as standard to be of high quality and the buckle to be of excellent quality and finish, it is the X-71 bracelet that is an optional upgrade to the Fifty Fathoms that blows me away. It is my opinion that this is the finest bracelet made by the hand of man, bar none! That might be a strong statement, but I do not throw it around lightly.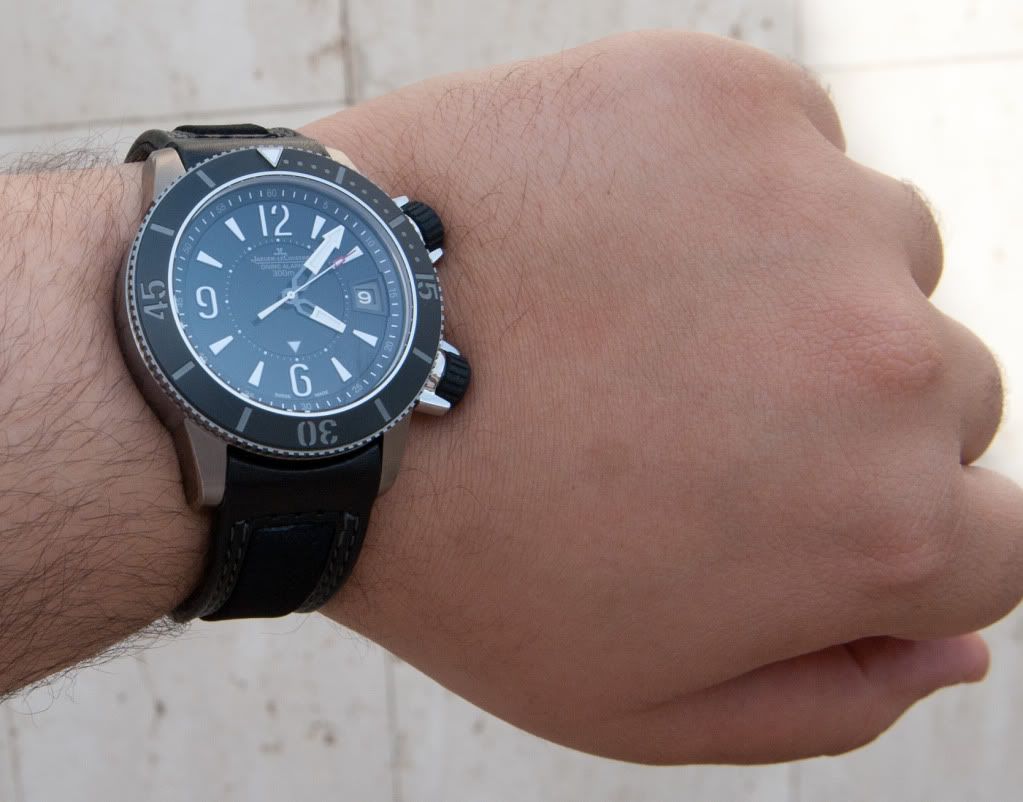 I have examined the bracelet and have found the finish to be as flawless as the case itself, the polished and hand brushed parts are striking in their uniformity of grain, consistency of finish, and overall quality! Also, the engineering that has gone into this piece of wearable art is substantial and impressive! The multi part fastening buckle is a miracle of micro engineering and provides superior safety and comfort as well as being visually satisfying. The tapering and construction of the links is such as to allow for the band to drape across your wrist yet still feel superbly tough and maintain its design. No wonder it costs around 2500 street!!!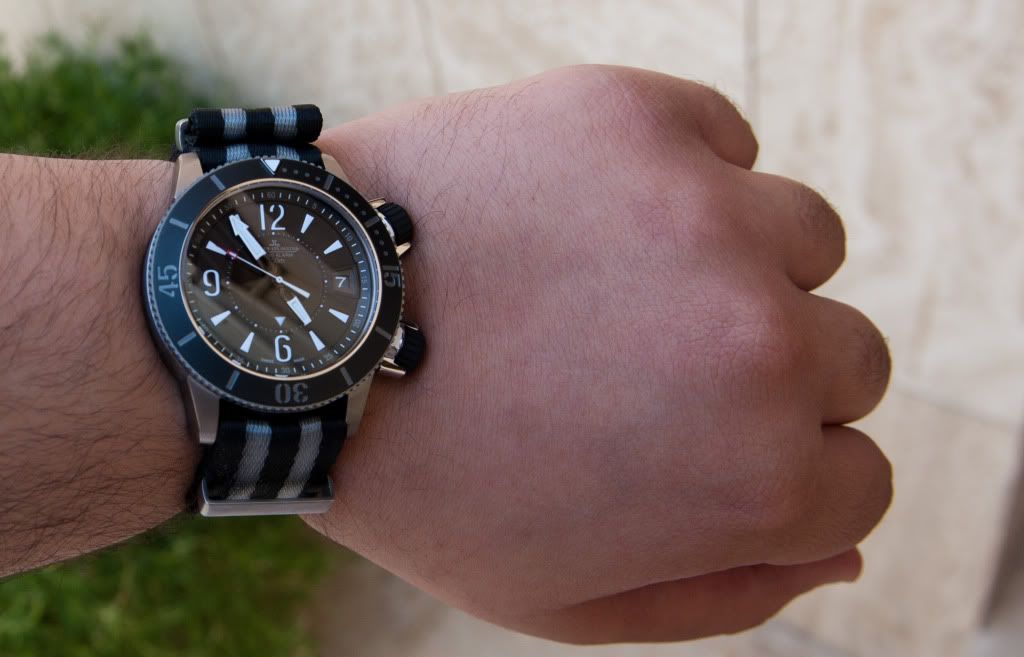 Not to say that the Titanium bracelet option for the Navy Seals Alarm is anything to scoff at, in fact it is a piece of excellent engineering and the finish is also superb, just not quite to the Blancpain level. The other options however are where Jaeger shines the most, for one thing the leather and corduroy is innovative, comfortable, and classy. The articulated rubber bracelet showcases how the brand is ready to innovate and go the extra mile, by far the coolest rubber option I have ever seen on a watch! The same quality standards extend to the Nato strap seen in those pictures, unbelievable quality! Especially impressive since most manufacturers don't put allot of thought into Nato straps. I swear it wears like silk!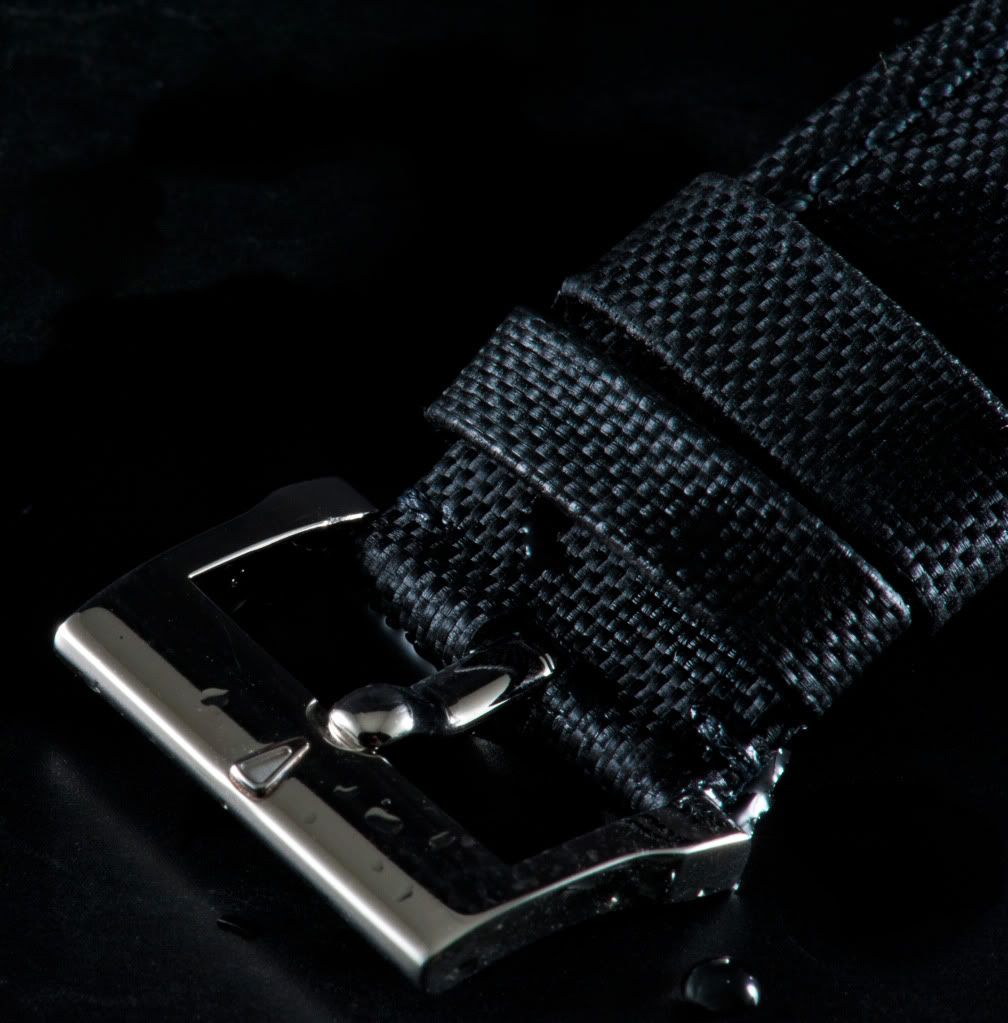 All in all, the offerings are excellent and as much as I would like to give Blancpain the nod here due to their fantastic bracelet the Jaeger does come through with some very nice alternative and innovative offerings.
Winner: Tie!
Readability:
Although both watches have excellent crystals and AR coatings applied to the dials, the Blancpain does have the simpler dial and the sapphire on the blancpain is the best I have seen, practically invisible. Also, the Fifty Fathoms has some serious lume applied to it (and its documentation!) and is far more readable underwater.
Winner: Blancpain.
Value:
Jaeger Le Coultre usually decimate any competition in terms of value on every pricepoint they compete in. From the most basic of Reversos to the most complicated Compressors the combination of quality of finish and movement cant be had at the same price points, that said the Blancpain, although not a brand I usually assosiate with exceptional value, produces some tough competition with their excellent Fifty Fathoms. Some would argue that the Jaeger's Alarm complication is a rare and desirable complication rarely offered at this price point, others would point out that the Blancpain's extended power reserve and reliability enhancing technologies are far more usefull and practical, not to mension the Fifty Fathoms is a more versatile watch design. In the end, those considerations are of a personal nature and an objective observer would conclude, as indicated by the large amount of ties in this review, that both watches represent superior value in the sub-10K category.
Winner: Tie!
Not surprisingly, the watches almost tied in every category except 2, bringing the final tally to a 1:1 standstill. Although I did not expect the outcome to be this close (I was sure the Jaeger would slightely outscore the Blancpain) I do think there is no other closer couple in my collection in terms of quality and value put together.