I seem to get a number of emails and replies to my threads here and elsewhere asking me about how I feel a certain watch stands up to another, and that started me thinking (always a sign of impeding horror) that I would do a series of comparative reviews, now I have been thinking of which watches to compare and what categories to have, and how to go about it all together. here is what I have come up with.
The reviews will compare watches that are similar in style, size, and price point and are thus likely to attract the same potential buyers, hence being the most useful. The reviews will have a consistent set of categories as detailed below. You will notice that design and general attractiveness as it pertains to that aspect is not included, this is an attempt on my part to be as fair and impartial as possible as this particular aspect of watches polarizes opinion.
I certainly am not as familiar with watches as many other serious collectors and horological experts are, but I feel that I have owned enough watches and have read up and done enough research to legitimize my opinion, if nothing else.
The Review: Rolex Deep Sea Vs. IWC Big Inge.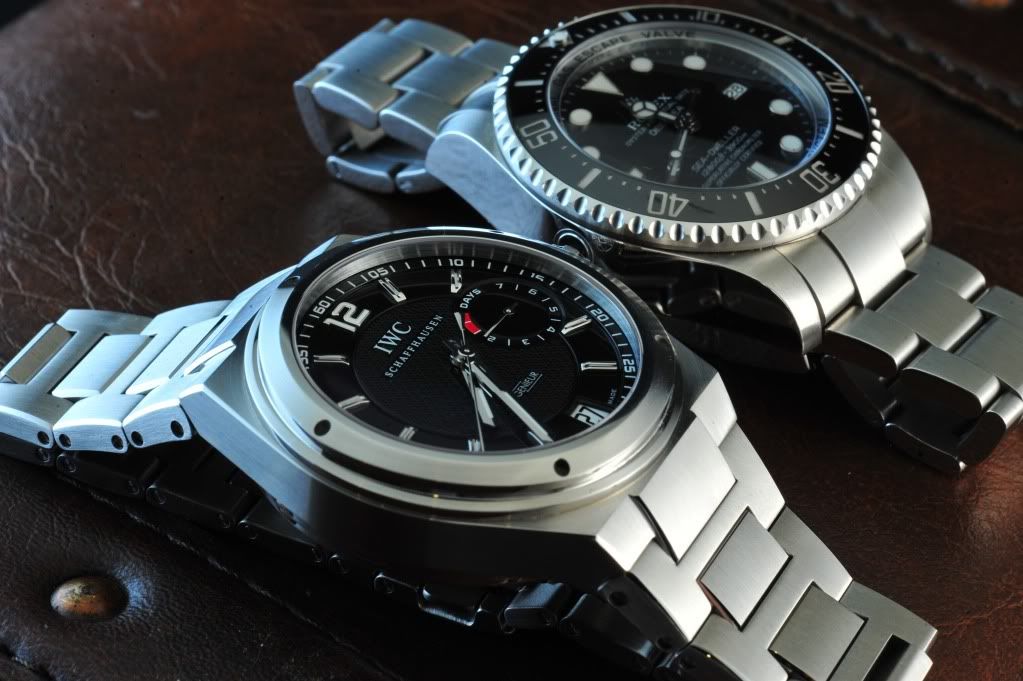 The Watches; an Introduction:
Although these watches are classified as different technical types, one being a diver's instrument while the other is an engineer/scientist's tool, they do share allot in common. For one thing, they are both modern interpretations of classical iconic sport watches, both are relatively heavy and large steel behemoths, they both have relatively simpler dials, are both at the same price point (street value if not retail) at ~$8000, and both come from well known and respected watch brands.
Brand History and Legitimacy: While Rolex is definitely the better known brand and most impressive to the layman, the serious collectors most often than not tend to have their reservations about the brand's legitimacy, viewing the house of Rolex more as a well managed and sterile corporation with an ingenious marketing and distributing scheme rather than a Manufacture filled with passionate artisans many, on the other hand, tend to view IWC as an old school watch company that has stuck to its roots and championed its style of watchmaking. The fact is however, both brands have a long history of making timeless pieces that have been used in virtually every possible field, from civilian and military aviation to scientific or military deep sea diving, to classical watch making for the civilian market. Neither brands accomplishments can be denied, and their adamant improvement on their watches and model originality ensure their legitimacy in my opinion.
Winner: Tie!
Movement Features:
Both watches have modern technology evident throughout their parts, micro gear toothing, all sorts of rhodium plating and Teflon coating as well as solid gold construction for the heavier parts. Real quality stuff! The Rolex obviously has their excellent Blue Parachrom hairspring which is unaffected by magnetic fields and does not require a soft iron cage, it also is 10 times more resistent to shocks. Other Rolex technologies are the use of a KIF system, and a Breguet overcoil for better isochronism.
The IWC has been outfitted with the spectacular (in theory and design) caliber 51111, a 42 jewel 8.5 day power reserve behemoth measuring in at and producing 21,600 vibrations per hour. Although the movement has a rating of over 8.5 days, an ingenious mechanism stops the watch when it has 36 hours remaining to prevent the unavoidable decrease in torque as the mainspring winds down and the resultant significant decrease in accuracy. Hence the 7 day power indicator on the dial.
The other main feature of the Calibre 51111 movement is the much touted Pellaton Winding System, originally created by the IWC Technical Director, Albert Pellaton in the 1940's. In contrast to standard watch design, the movement of the rotor is not transmitted to a wheel train via a gear system but through a cam which increases the durability of the rotor wheel.
Although both watches have some very serious technology going into their movements, and IWC's execution of the design is lacking, the nod still goes to IWC.
Winner: IWC
Case Finishing:
I actually had to place both watch under direct light and examine them again to determine the winner here, they both have excellent finishing and polishing work applied, the Rolex tends to have a slightly more uniform and consistent finish, even at the most difficult to see and get to parts, while the IWC has a more visually attractive one due to the larger size and better executed finish grain, it is hard to explain but the IWC finish feels more authentic and the Rolex finish might be more assisted in terms of machinery than average. Not unlike the obvious difference between a hand stitched and a semi-machine stitched leather item. The polished parts on the Rolex are superior to those on the IWC however. Overall it is not difficult to give IWC the nod here.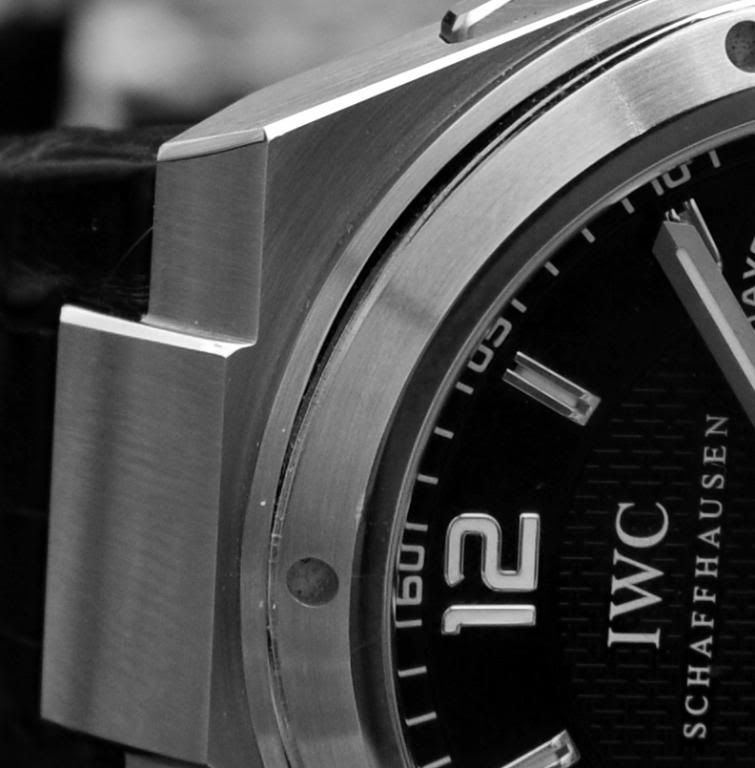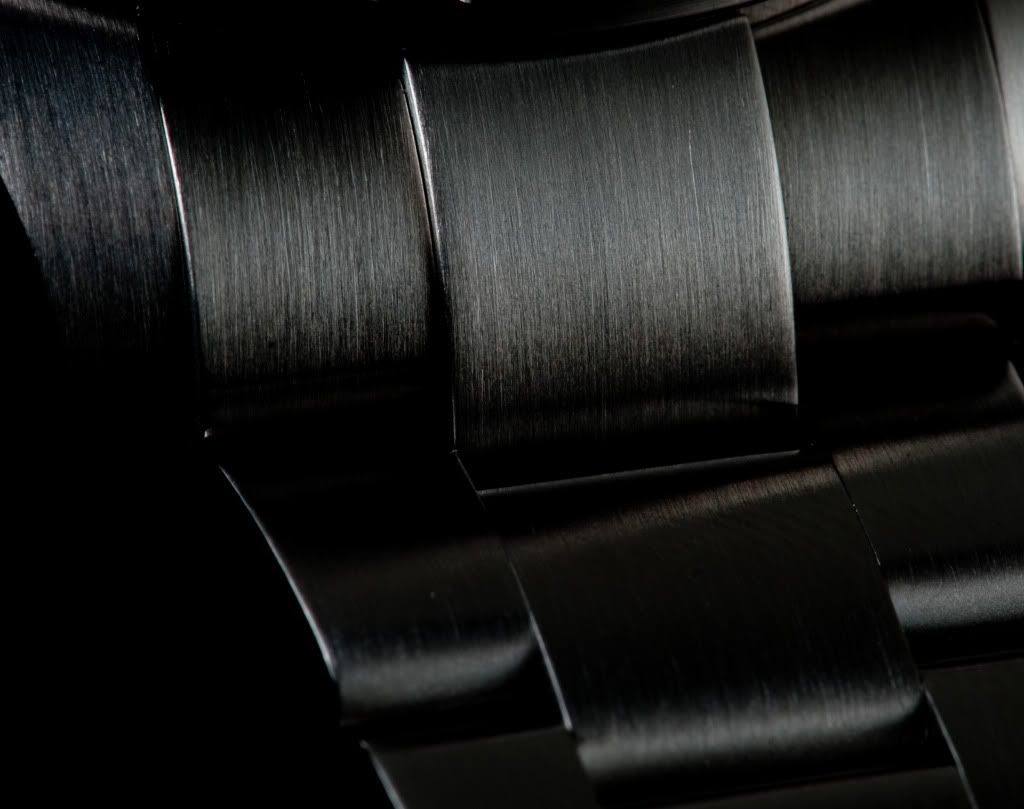 Winner: IWC!
Case Construction:
The multi case construction on both of these models is incomparable in my experience, they are built like tanks and feel like they can go through several lifetimes of intense abuse and withstand any torment you can through their way. Upon close inspection, the Rolex does seem to have the edge here, especially impressive considering that it has a bezel unlike the IWC and a well engineered one at that.
Winner: Rolex!
Watch Features:
While the IWC does have the very impressive 7 day power reserve, and honestly that is far more useful for the vast majority of owners, it does not match up to the fact that Rolex has
the
most impressive depth rating of any mechanical watch ever made at 12800 ft.
Winner: Rolex.
Technical Movement Finishing:
A quick explanation first, it not very well known that the technical aspect of movement finishing is as important to the durability and functionality of a watch as the basic design and subsequent engineering that goes into the movement. The attention to finishing on the barrel, mainspring, and pinion can have a dramatic effect on how smooth the watch operates, this extends to all other parts of the movement as well, as there are no unnecessary parts in a watch movement. For example the polishing on the sides of the gears can determine how much wear results when friction occurs between the moving parts, and ultimately effect the durability and need to replace parts. Watches tend to fluctuate to the poorly polished to some that are so immaculately polished that they achieve what is known as "black polish", a name reserved for parts that are so finely finished that when they are turned to the side appear as if they are black.
As an aside, it is amusing to consider that A Lange, who is world famous for their finishing quality in all aspects, only performed technical watch finishing up until the mid 70s as in their beginnings it was commonly thought that any finishing beyond the functional and purposefulness was a counter productive aspect of "Capitalist watches" under the socialist regimen according to their latest publication citing their top watch finishers. In any case, there are many aspects to this subject that require a dedicated article, in the mean time on with the review.
Both brands are very well known for their technical watch finishing, Rolex parts have been known to rarely need replacing due to their excellent movement finishing and clever "cheating" techniques such as Teflon coating the gears after initial finishing and IWC has had a tremendous impact and influence in this area, extending their image of technical watches down to the smallest detail of watchmaking. That said, IWC is the clear winner here, as they cut absolutely no expense in developing and implementing movement finishing techniques that are without peer in their price range and rival that of brands that cost many times their cost such as A Lange and Patek.
Winner: IWC!
Decorative Movement Finishing:
This part deal with any finishing techniques that are used to add visual interest and appeal to the movement, such as polishing or bluing screw heads, circular brushed finished on gears, decorative engraving etc. This one is easy, Rolex are known to apply minimal decorative touches to their movements, only enough so that they do not look outright ugly, while IWC has a history of going to great lengths to decorate their movements, as you can see from these pictures"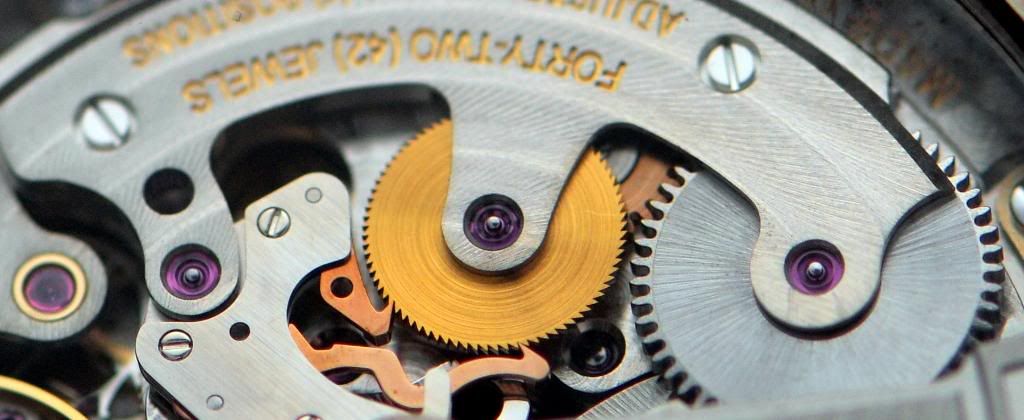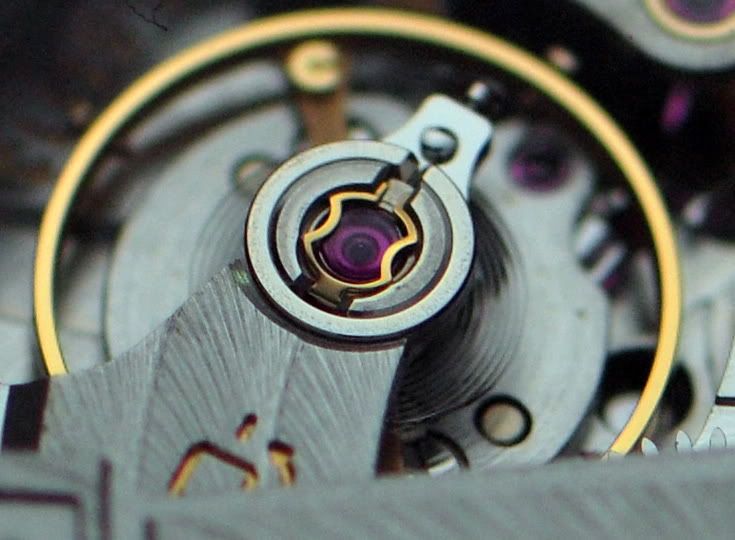 The winner: IWC by a mile.
Overall Reliability:
I have owned several Rolex watches, and have never been one to treat them with kid gloves, yet never have I had a single issue with any of them, and they seem to have earned almost universal praise in that regard. The Deepsea is no exception, I have owned mine for over a year ans it consistently runs within COSC standards. The IWC on the other hand, is a total failure in that regard and is a hopeless case, I have handed it in many times to IWC and they still are unable to get it to work within their advertised range, a problem that seems to plaque only watches equipped with this particular caliber. Worse, it seems IWC has an unofficial position of "deal with it"! In fact I suspect they did not even inspect the watch the last time I brought it in, and it unfortunately still runs at +30 seconds fast a day, totally unacceptable especially from such a respected company and for a watch at this price point.
These watches are at complete odds here, winner: Rolex.
Bracelet/Strap:
This could be a controversial category to tackle. the Rolex bracelet seems to polarize opinion due to its tapering, but I have noticed that critique usually comes from guys with smaller sized wrists. I will leave the issue of comfort and aesthetics untouched as that is a very personal thing.
From an engineering standpoint, both the IWC and Rolex have large, solid, extremely well built bracelets that taper to differing degrees, the Rolex has a more classical design inherited from past Rolex sport models and modified, similarly the IWC BI bracelet has the same exact design as the previous smaller models. Both bracelets exhibit excellent finishing that is consistent with the case, and again the finish on the IWC is more impressive. Both are integrated designs and seamlessly attach to the case and offer a uniform look and feel exceptionally tough and solid.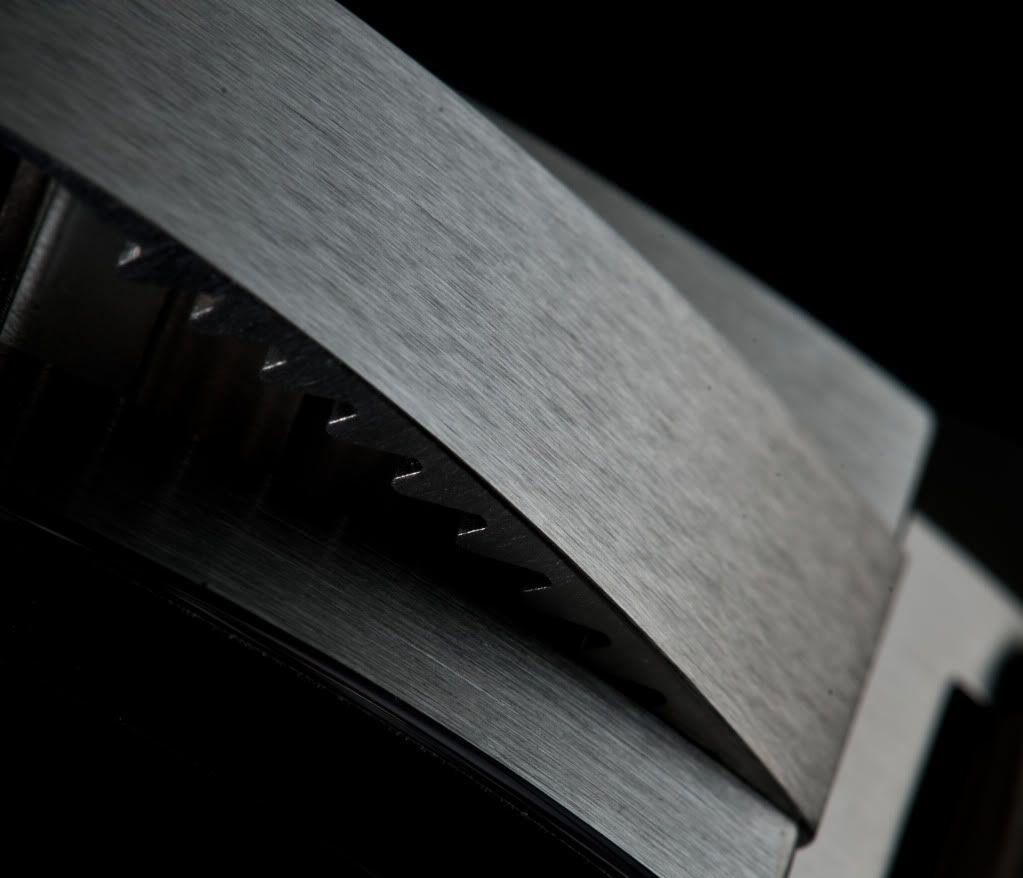 When it comes to the clasp however, I find that the fantastic bit of Rolex engineering and ingenuity that is put into their clasp to be in stark contrast to the tin foil clasp of the BI, it amazes me that so much workmanship and effort could go into a bracelet yet the company would let everything fall with an unsecure and weak clasp design such as you can see on this bracelet.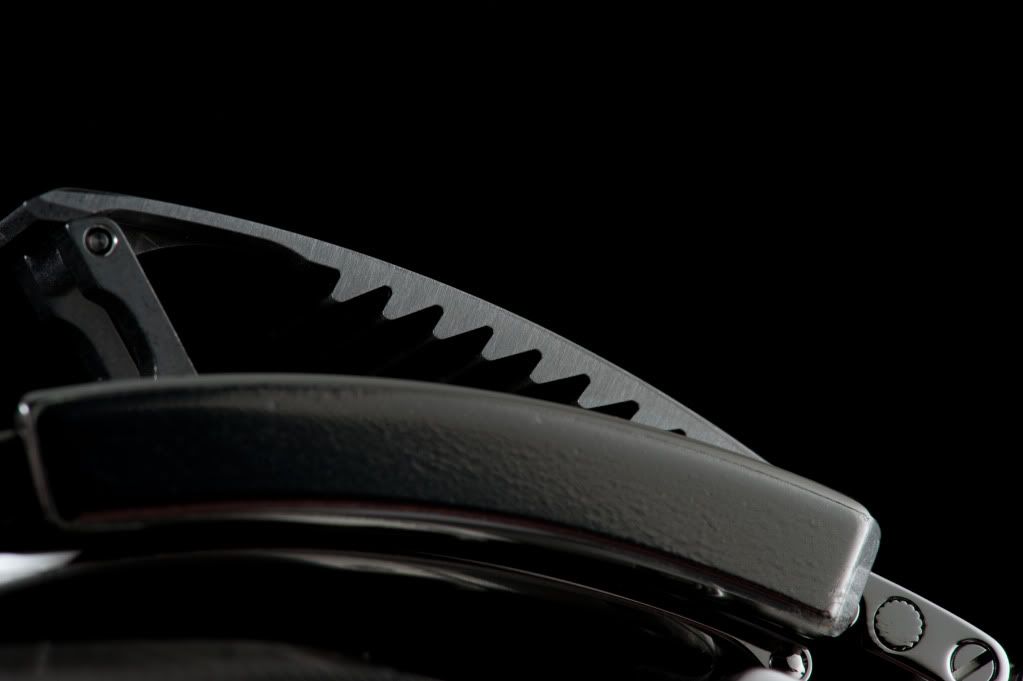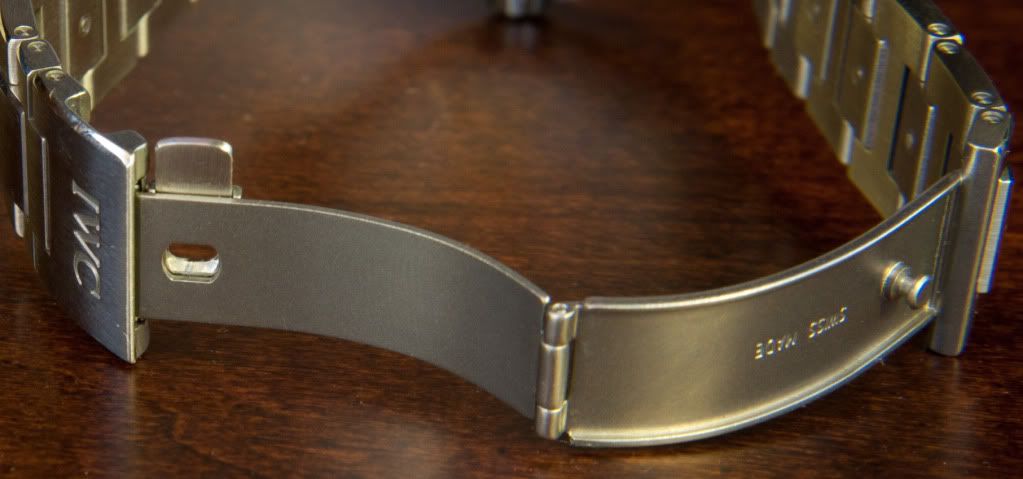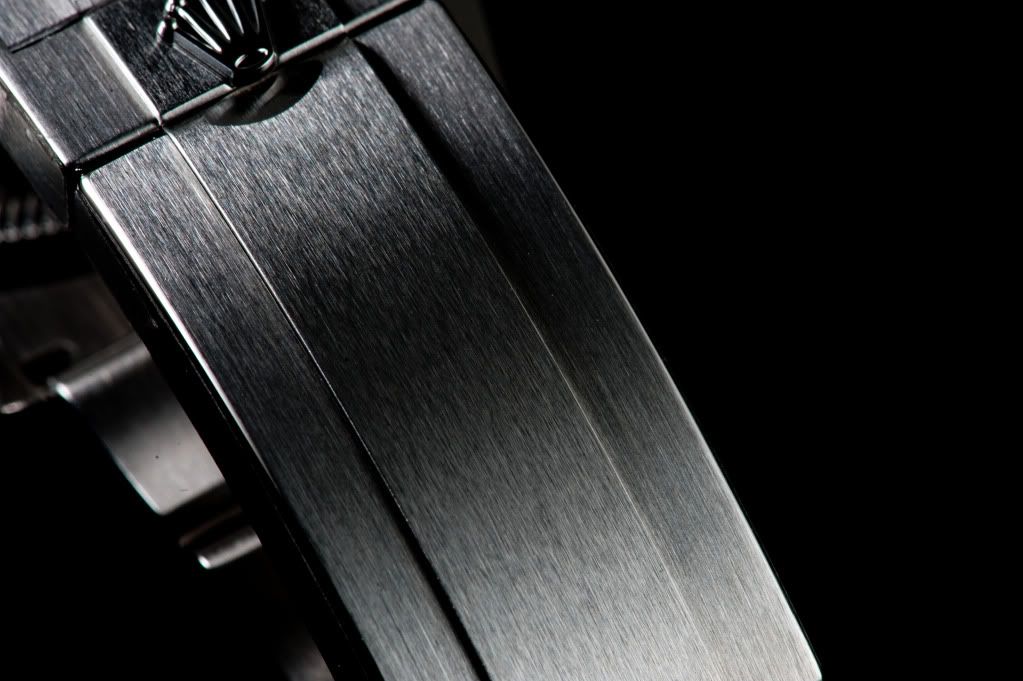 If the clasp on the IWC was a bit better thought out, it would be a clear winner, as it stands the IWC still has the superior bracelet, but only slightly outshines the overall Rolex offering.
Winner: IWC
Readability:
While both watches offer large, clean dials, the Rolex does have larger and better defined hands while the IWC has a larger dial. The IWC has a flat crystal with excellent AR coating so there is minimal reflection, while the Rolex's domed crystal does cause noticeably reflections it is far more legible underwater. The luminosity of the Rolex Deepsea is far and beyond that of the IWC however.
The Rolex over all has the advantage here.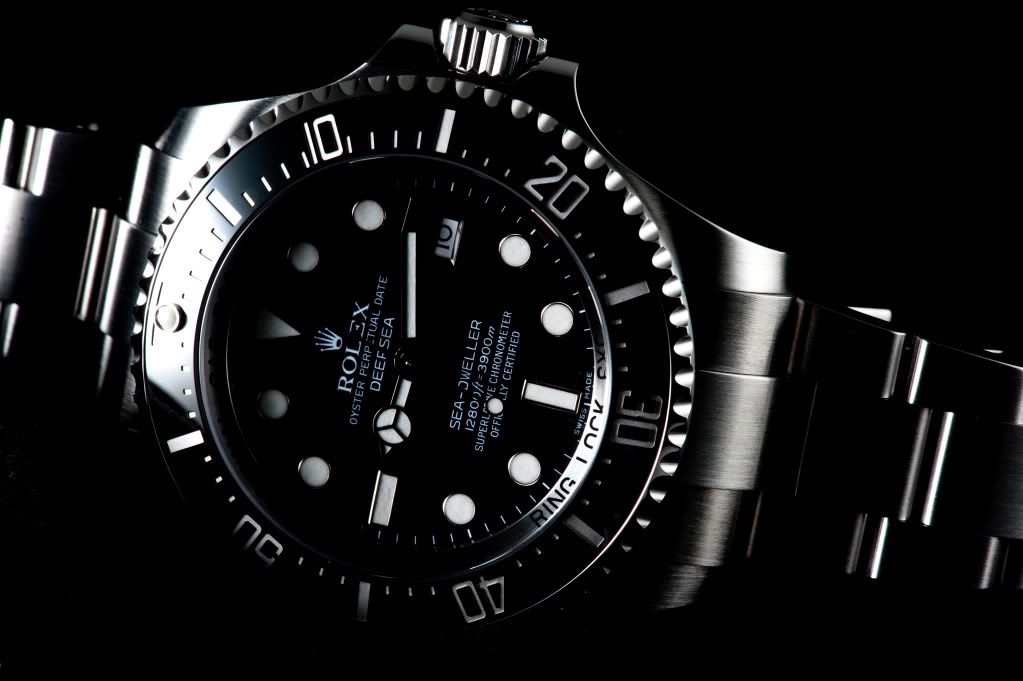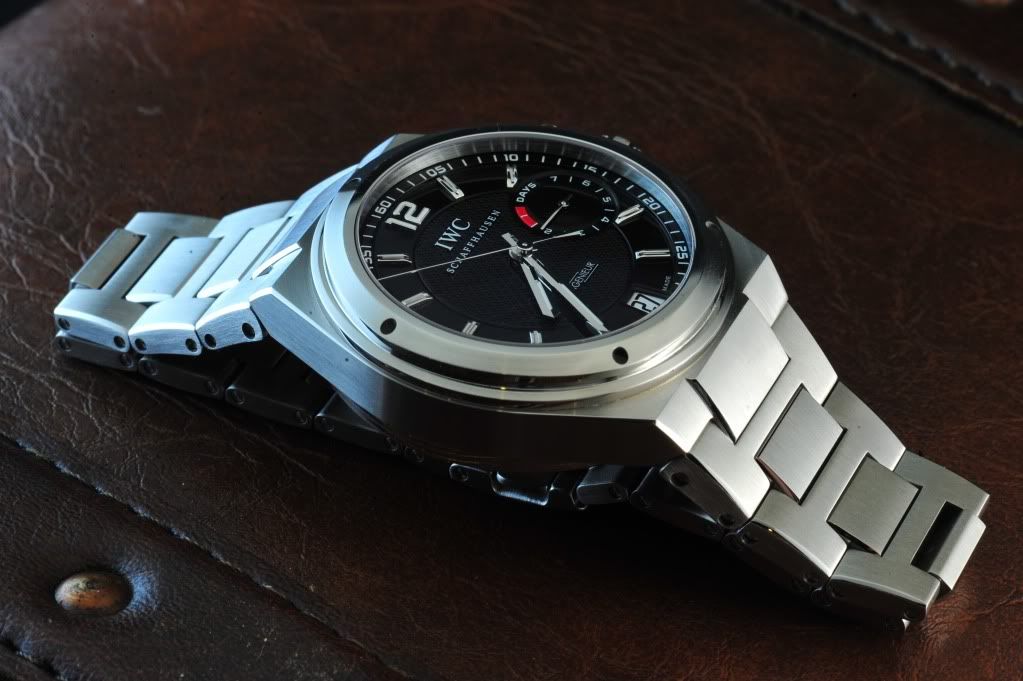 Winner: Rolex.
Value:
Both watches offer reasonable value for the money they ask, taking into consideration their features, finish, and other criteria. Though the Rolex does have better resale value, they are still comparable.
Winner: Tie!
That comes down to a 5:4 win for the IWC. Both watches are excellent and provide slightly different areas of satisfaction for the owner, many people have one area that is more important for them personally. Any one adamant about timekeeping would obviously forgo the IWC for the Rolex obviously, while overall the IWC is a more involved item.
Well there you go, I hope you enjoyed that review as much as I enjoyed writing it.
The watches in my next reviews are going to be:
Panerai 323 Radiomir 10 days Vs. IWC Big Pilot 7 days
AP ROO Safari Vs. Hublot Aero Bang, just for Roff

Breiting 6.75 Vs. Panerai 359
Breitling Chronomat Vs. Panerai 000
Blancpain Fifty Fathoms Vs. Jaever navy Seals Alarm
Seiko Ananta Vs. Omega PloProff
Jaeger World Alarm Vs. Panerai 305 Sub.
Plus a few other reviews I have in mind, I hope to get to these soon as time permits.