First , thanks to everyone on this forum for the education and advice over the past couple months. This is my first luxury watch and will not be the last.
After a trip to Grand Cayman and shopping at the AD there I decided what ling was for me, settling on an Evo, and buying it through the bay from an estate wholesaler. The guys here confirmed it was real, came with all the right stuff - boxes, papers, etc. in mint condition, I don't know how people buy these and then don't wear them.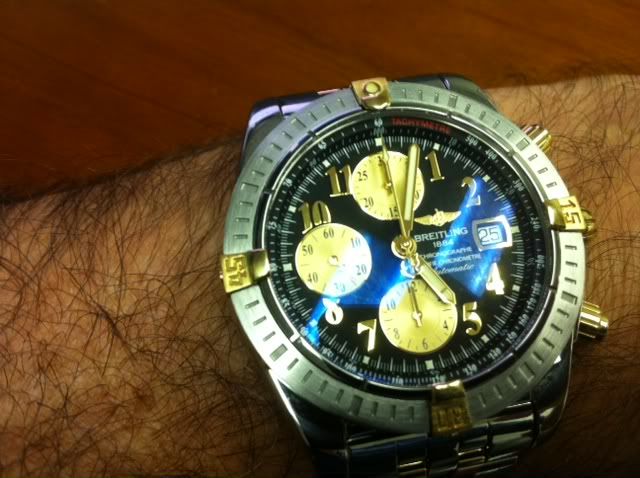 yeah, a little blingy with the gold, but it works for me. Here are my impressions:
When I excitedly unpacked this thing, and held it in my hand for the first time - wow! this watch weighs a ton! How is that ever going to be comfortable? After having a couple links removed, and wearing it for a couple days, it became amazingly comfortable. I've worn it every day since it arrived and now it is just "normal", don't notice the weight in the least. (maybe my left arm is getting stronger!)
The watch keeps pretty much perfect time, I just check it v. my computer (to the minute, have had no reason to reset it in a month)
It is slightly incompatible with some of my LS shirts - cufflink shirts are not a problem, some of the button cuffs don't work real well.
I get a fair number of comments, all compliments. The watch has a real presence and people notice it. A lot of people I work with have Rolexes, in comparison they don't have the presence due to the size of the Evo, and they were never a watch I wanted as they seemed to suit someone "older" - no offense intended as I qualify for that statement.
I continue to be impressed with the precision and detailing of this piece, The fit and finish, the bracelet, the way the numbers stand out from the dial, it all shows an attention to build to a very high standard.
Bottom line, I love the look and the fit, and glad to have made the purchase.
What's next? I plan to add some pieces - thinking of a Navi, a JLC - probably the master control (for dress), a PP at some point, maybe one of those Russian Strellas as they look interesting (and cheap!), I'll probably change my mind a few more times before I buy again.
Thanks all.