Breitling has been known lately for big diameter case sizes and legible dial with huge arabic numerals. Similar to a cockpit gauge, designed to be read quickly at a glance.
I've always been a fan of Breitling watches, mainly the Chrono Avenger which I fell in love with when I saw it at an AD display window back when I was in College. In the back of my mind, it will be a watch that I will own someday.
Fast forward into the near future, I got married and told my wife that it will be a 10th year anniversary to myself... that didn't happen. I bought it on our 3rd year anniversary LOL!
This is my second Chrono Avenger since the first one was stolen (long story). You can read it [url="http://www.rolexforums.com/showthread.php?t=19187&highlight=temporarily"]here[/url] and [url="http://www.rolexforums.com/showthread.php?t=19548&highlight=bracing"]here[/url]
Packaging
The inner and outer boxes for the Chrono Avenger is superb. The bakelite box is definitely of solid construction, bottom of the box states that it is made in France.
The typical paperwork that comes with Breitling watches are the COSC certificate, warranty booklet and the instruction manual. The second CA that I purchased was from a grey dealer hence the warranty booklet and COSC certificate are held by them to protect their AD source.
Dial
I've had a chance to own a blue dial and now a black dial Chrono Avenger. The blue dial is unique since at different angles and lighting conditions, it will look black.
BLUE DIAL
The black also has a unique finish to it, a mat finish.
BLACK DIAL
This being a chronograph, the subdial arrangement follows the 12, 9 and 6 o'clock arrangement. The 12 o'clock subdial provides the 30 minute register, the 9 o'clock subdial provides the second hand register, and the six o'clock subdial provides the hour register. The hands on both the subdial registers and the hour/minute hands are very easy to read. There is no problem misreading the time.
The only negative thing that I can say is that the lumed area of the dial needs to be more. You would think that the arabic numerals would glow at night, but I'm sorry to report that only the little dots are the ones that illuminate at night. One positive aspect of this is that when it glows, the dial looks very even.
I love the date font on this watch, and with the 44mm case diameter, they can spare a bit more real estate for the date window. You won't be needing a cyclops for this one.
Glass
It is a love hate with AR coated sapphire glass. You can easily see smudges on it, and there are risks of it getting scratched. However, when it is clean, the reflections and glass totally disappear and its as if you are looking at the dial with nothing in between! The glass is also cambered/domed which makes it easy to look at the dial at extreme angles with little distortion.
Bezel
The bezel on the Chrono Avenger has no insert. The entire bezel is constructed of Titanium and there is no insert to scratch, but it can be dented. The bezel also has whats called rider tabs. These are tabs that exists at the 12, 3, 6 and 9 markers. They're also called sweater destroyers, but I've not experienced this myself.
Case
The Chrono Avenger being a 44mm diameter watch, it is not heavy at all. In fact it is almost the same weight as my Sea-Dweller. It is a thick watch, and looks very rugged... something that Arnold Schwarzenegger would wear :p.
The crown is very easy to grip, even with gloves. The pushers are also easily activated. When I ride my motorcycle with gloves and leather jacket, I can easily feel the pushers to activate the chronograph without removing my gloves.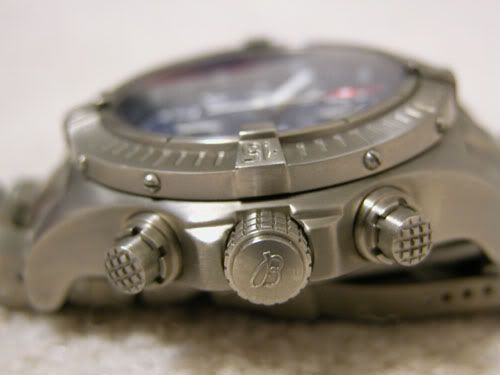 Bracelets
There are two types of titanium bracelets offered on the Chrono Avenger, Pro I and Pro II. Actually Breitling only calls it Professional bracelet. Pro I and Pro II were referred to by WIS in order to distinguish the two styles. The main difference between the Pro I and II is that the Pro I has dive extensions while the Pro II does not. The Pro II has a more flat look while the Pro I is a bit more rounded. Both bracelets are comfortable, but after having and wearing both, the Pro I is more comfortable.
CA on PRO I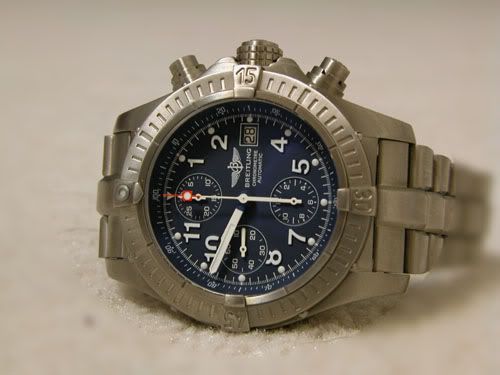 CA on Pro II
This photo courtesy of TZ
The Chrono Avenger can also be fitted with leather and rubber dive straps. I personally prefer bracelets.
Caseback
The Chrono Avenger does not have a clear caseback, it would have been nice to see the decorated movement, however we are only treated to the engraved caseback. Still very nice to look at.
Conclusion:
If you love chronos, the Chrono Avenger is a great watch to have. Being a 44mm watch, the titanium construction really makes the watch wearable as it is not very heavy. Titanium is also hypo-allergenic which means if you have sensitive skin ie. allergic to nickel, no worries with Titanium. If you are into polished metals, Titanium is not for you.
The Chrono Avenger is already being discontinued by Breitling and is being replaced by the Avenger Skyland. It is a 45mm watch that comes in SS and black steel. If you are a fan of a Titanium watch with Chrono feature, the Avenger is right for you, and will look good in any collection!
Hurry and get one before it disappears!