First descent post here. Also active on some Dutch watch forums, but not too many Emergency interest over there.
This Breitling Emergency watch was on my wanted-list for quit some time now.
However, finding a nice piece with the SQ movement and full Breitling service history in Europe is hard. Finding a Coral one is even harder, and getting a guided tour within Fort Knox is easier then finding a Coral one with matching UTC !

(coincidental as we speak there is one of sale on C24 right now, but that thing is without documented service history, NO box and NO papers, nothing, so not an option for most E-freaks I would think)
I live in the Netherlands, so first move was contacting all AD's. None had anymore in stock. Ok, next move was searching all the well known watch sites and only a very few candidates were available there. I Was able to locate two rather new Coral ones without UTC, but logistics on these ones were kind of risky. One in Italy and the other one USA.
Andrew Michaels actually had a NOS Coral Emergency in stock and a used UTC-module and made a pretty descent offer, but still I thought I could do a little better. Compliments for Richard at AMJ though ! spoke a few times over the phone and emailed a bit and he was always very friendly and helpful !
Then I decided It was probably easier to find any colour dial SQ and request a dial change at Breitling. The UTC was something I would handle later.
Inititally I contacted one of the few Breitling service-centres in The Netherlands who told me Breitling did not allow dial colour changes on the Emergency. What ? Why ?!

Some story about serial mismatching the dial colour in Breitling records. Anyway, I had some trouble believing that because under certain circumstances even the crazy rigid

Rolex service department would allow dial colour changes, and Breitling couldn't be more strict dan R right ? That seemed just impossible to me, and I was right !
Anyway, after contacting the Dutch distributor (Koster&Zn) I got another (better !) story. Initially I heard the same, but after mentioning the fact that B-UK and B-USA did dial changes on Emergencies (found out on the internet) they sorted things out and contacted me 15 minutes later to inform me dial change was possible for sure!
The story about it not being possible appeared to be outdated policy. However with the dial change a full service was needed. Full Emergency service was €390, dial change 300, grand total €690. The lady of the house asked a few times if I was nuts to pay that kind of money for a differerent colour but hey..... Let's stimulate economy !
So I ended up buying a very nice blue Emergency SQ with all the goodies, papers, and full service history, just very lightly polished and a descent price !
After getting the watch I did wear it for half an hour on my wrist while driving to the distrubutor/main service centre Koster&Zn where I dropped it of for the Orange adventure and it was time to say goodby again to my newly acquired watch.
At Koster they use pretty strict procedures with quotes and not ordering parts (Coral dial) before getting a written o.k. for the full quote, but they soon noticed I was serious and became a little more flexible.
Many thanks to the ladies handling service Nadine and Xenia who were very helpful and friendly during the the whole proces ! For the Dutch readers, if you ever need Breitling service in the Netherlands , be sure to contact one of them !
Next challenge. How to find a (NOS) Coral UTC-module ?!
I decided to use the shotgun-technique firing out about 200 emails to European AD's requesting for a NOS Coral UTC.
Maybe I missed one or two of them, but it should be very possible they ALL (!!) responded to my mail, as expected negative and trying to promote the new model in a few occasions, but still pretty good customer-service from the Breitling network !
Untill.......One of the last ones responded he actually had one and immediately offrered it at a terrific price. YESS !
I accepted his offer within a second and deal was arranged with wire transfer and Fedex and 2 days later the UTC arrived , waiting for his big orange brother.
Back to the watch. About four weeks after leaving the watch at Koster&Zn I got the call it was ready.
Here is the final result ! !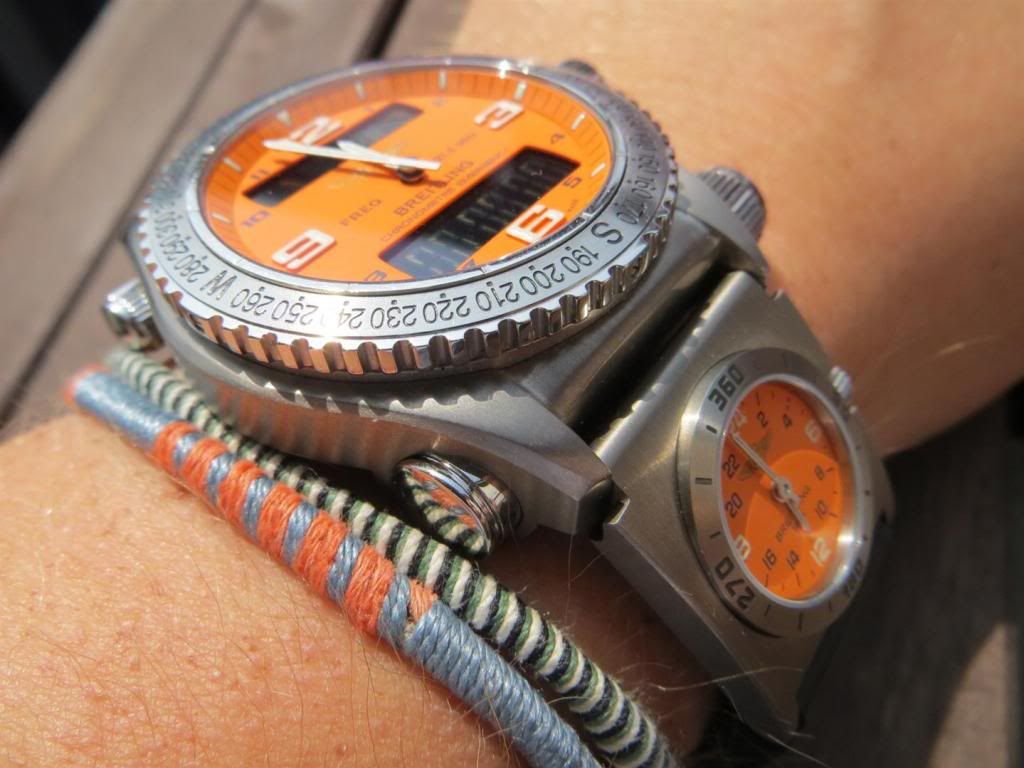 Strap-wise this thing is a absolute challenge. Since the UTC on the south-side has 19mm and the watch itself at the Northside is 22mm you have to be very creative with straps. I think the special adapted UTC Titanium Pro-I bracelet looks a little oldfashioned so that's not an option for me. The only other "factory original " option would be the leather strap, but this uber-tool-watch screams rubber or NATO! For the moment I have modified an old diver pro strap to fit the UTC, and I have ordered various two piece Nato straps in black to give that a try. Pics of that will follow later.
For the moment this is the result. Some pictures in it's "natural habitat" will follow soon as well.
During the search for this ultimate Emergency combo I spoke to quit some dealers and rep's, but the amount of absolute nonsense some people tell you about this watch is just dissapointing, but sometimes (very) funny. One lady (AD) informed me this watch had not only a built in transmitter but also a mic to be able to communicate with Air Traffic Control when airplane-radio's would fail.
ARE YOU KIDDING ME ?!?!