Breitling Articles, FAQs and Resources
Breitling Bracelet and Case Dating
Dating your Breitling watch with the Case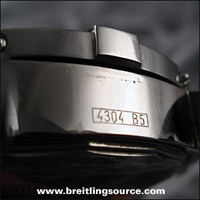 It is a relatively little known fact that newer Breitling models have case dating incorporated between the bottom lugs. I have heard occasional mention of it on forums, but no real pictures and information regarding this. I am going to change that with this little article here.
On the right is an image of the case date between the lugs of a 2004 SuperOcean Steelfish. The 4304 stands for the 43rd week of 2004, which puts it around late October.
I am not entirely sure as to when Breitling began case-dating all their watches, but I would hazard a guess that it is very close to 2004 - perhaps 2003 on most watches. I have received reports that there have been case dating as early as 2001 on some watches as a user here reported a Crosswind Special with a date code of 4701 B3 and another has reported a SuperOcean A17340 with a date code of 1501 B5, while some newer watches I have from 2002 and 2003 do not have date codes. I am unsure of what the B5 indicates, but alot of full Breitling product numbers contain a B5 in them after the full model number (ie. A7836223-B5-874).
Dating your Breitling watch with the Bracelet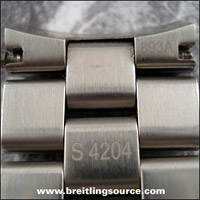 Breitling metal bracelets have the manufacture dates etched or stamped into them. The first example here is a Professional bracelet which has been etched with the production date 4204. Like the case, it stands for the 42nd week of 2004. The 893A is the model number of the bracelet.
The Titanium Professional and Fighter bracelets also have the numbers laser etched into them, which means they could be polished off possibly.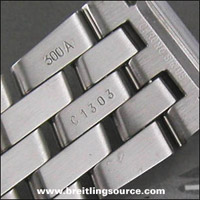 The Speed, Navitimer and Pilot bracelets have always had the date stamped into them, as well as the new Professional II bracelet. I am not sure how the Rouleaux bracelet is marked. As you can see, the second bracelet to the right is a Pilot dated to the 13th week of 2003.
Its not documented as to when Breitling began dating their bracelets, but I believe the older pinned professional bracelets without the solid endlinks did not have have the dating system. The new bracelets came about in the mid to late 90's. The earliest Fighter bracelets that I have seen date to 1995, and do have the dating system.